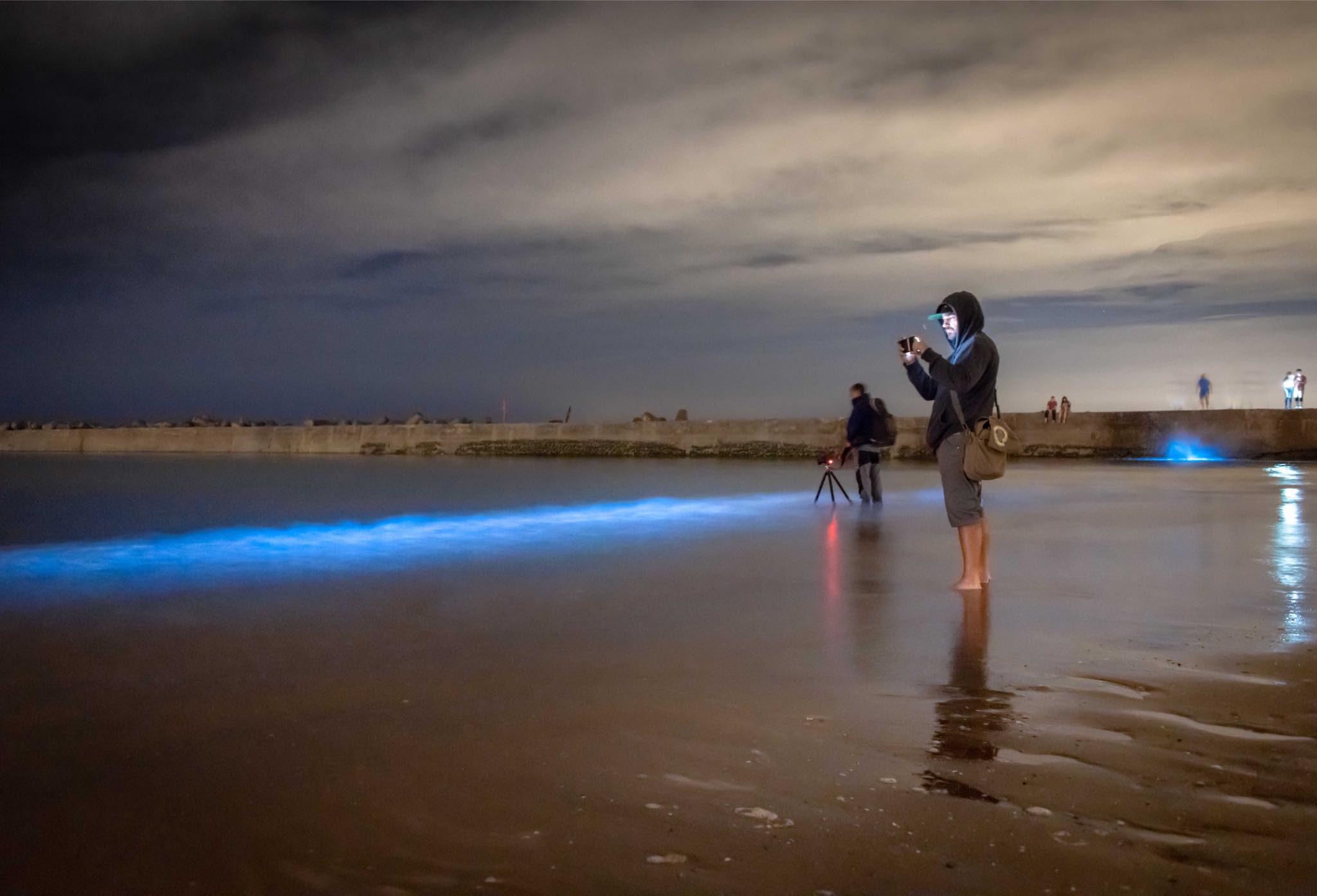 Its Back!! – God help us……
So the start of the 2019 Welsh Coast Bioluminescent Plankton Hunt is underway and its the North who take the lead. Kudos to Kris Williams who confirmed the first sighting of the year closely followed by Gareth Mon Jones.
*Update – 1st July 2019*
South Wales join the fun. First confirmed sighting on the South Wales coast was on the 28 and 29th of June by Lee McGath and Tim Bow near Nash Point in the Vale of Glamorgan.
Interestly its almost exactly a year from the start of the 2018 and 2017 sightings. Here's a little history about how the Bioluminescent Plankton Watch – Wales group began.
In 2017 Alyn Wallace a very talented south wales astro photographer, took this incredible picture at Three Cliffs Bay, Gower on the 20th June.
In his blog Alyn said
"It was one of those things I never thought I'd experience without travelling half-way across the world but my home country Wales continues to blow me away. I knew it was frequently spotted up North over the years on the coast of Anglesey, but when photographer Kris Williams caught some in a timelapse at Three Cliffs Bay during the summer of 2016 I just had to hunt it down and see it for myself."
The following day, after a few tips from Alyn, a few friends and i headed off on the hunt for this mystical natural wonder. A few hours later we were sitting in the blackness of a moonless night on three cliffs bay wondering if the plankton would show. It was a barmy 22C after midnight as we made our way along the shoreline. Nothing! or so it seemed, then a little flicker. "guys did you see that?" "na there's nothing…" soon gave way to "something just sparked!" then within minutes the shore lite up with flashes of distinct neon blue. The following hours were something that i will never forget, wading, splashing and pretending to be superhuman with friends as the bloom became more intense.
Below is some pictures from that night by Spencer Davies, you can clearly see the bloom arriving. Lesson one: Patience!
Forward to the spring of 2018. and becoming clear that this natural wonder visits Wales intermittently.
But when? How frequently? Where?
Thinking of the northern lights  and the Aurora alerts provided by the university of Lancaster an idea popped into my head. We can't predict Bioluminescent plankton in advance the same way that solar flares are detected, but we don't have to. Bioluminescent plankton can hang around for days not just for a few hours. It's often spotted at  the same location for multiple days provided the weather and ocean currents remain similar. An alert service based on real reports seemed logical and so The Bioluminescent Plankton Watch – Wales Group on facebook was born.
Our first tentative report was not received until early June. It was approaching midnight as i stumbled across the shingle at Nash Point in the vale of Glamorgan. A voice calls out from the blackness "don't get too close to those cliffs, they are crumbling" It's Alyn. "Though i'd find you here…" i muse as we set off over the rocks towards the shore. We didn't get to the shore line though, the rock pools caught our eye….
Peter Ryan splashing about in the pools last night 😀 Pretty sure we arrived just as the show finished! But nice to have a little splash in the stuff trapped on the beach…

Posted by Alyn Wallace on Tuesday, 3 July 2018
Within weeks the group had grown to several thousand members and we quickly realized that we would need some extra help. Admin reinforcements in the shape of Thomas Winston arrived, who couldn't wait to post in his pants…….
Whilst Wales basked in the 2018 heatwave, the plankton bloomed and bloomed. Night after night reports from all over Wales came in thick and fast. Our post stats provide a snap shot of the 2018 season. Interestingly sightings were reported as late as November in North Wales.
In South Wales, Aberavon in Port Talbot saw some of the most intense displays (see video below by Jonathan Demery and Georgina Harpers Pic at the top), with hundreds lining the shoreline each evening in a apocalyptic scene. Up North at Penmon Point, Anglesey, Plankfest was in full swing.
Some got lucky, others not so, but a special mention for effort must go to Nick Quilter, from London who got to see it at his third attempt. Lesson 2: Try, then try again
"Just want to give a massive shout out to this page and all the awesome people on it. Without you we would have never had a chance! 3 trips from London, over 1000 miles across 3 nights within a month and last night (3rd August) we got out chance! We swam, splashed, held and walked in Bioluminescent Plankton in the UK!! So Thank You!!!"
So what are the prospects this year? Where/when can i see it? How long will it last? etc…..
In short, nobody knows and if you post such questions you clearly haven't understood the point of the group. We will remove any such questions from the group as we receive so many the page would just become a list of the same questions. It's not predictable in Wales, but you can increase your chances by following the page and doing some research from old posts. Lesson 3: Do your research and plan your adventure.
During busy periods a daily thread is posted where you are free to post questions and make meetup arrangements.
The Coast is a dangerous place, it's never advisable to swim in the dark.
Don't be a Dick* includes, using flashlights, annoying residents, bottling plankton, have a few beers then heading somewhere dangerous… etc
How to photograph Bioluminescent Plankton
Alyn and Kris have written excellent guides, that can be found here and here.
Huge thanks to all the contributors in the group, we're really stoked to see your pics and hear your stories. Good luck and stay safe
Your admins – Peter, Alyn, Thomas and Kris